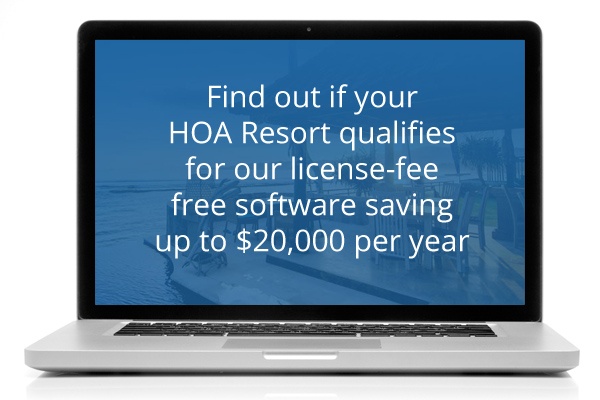 Merlin provides the complete software solution for today's vacation ownership industry.
Merlin Software is license-fee free for HOA Resorts.
Simply fill out the form below to see if you qualify.
Merlin Software was the first, and is still the only, fully cloud-based, front-to-back enterprise software in the vacation ownership industry today. Our clients do not need any other software to run their entire business operation – be it one resort or a group of 50 located around the world.
Over the past 15 years the Merlin team has developed cloud-based software solutions for some of the world's major hospitality brands. We are now bringing our deep industry knowledge and easy-to-use software to mature, HOA-run resorts across the world.
With Merlin Software for HOA Resorts, mature resorts can access the same cutting-edge technology as many of the world's leading in-sale resorts today – and take advantage of the benefits, savings and efficiencies that cloud computing now brings to business.
Why choosing Merlin Software is the best decision you can make for your HOA-run Resort
Merlin Software has been developed by a team of industry professionals with a wealth of hands-on knowledge and experience in the fractional and vacation ownership industry in sales, marketing, technology and resort management.
Using the latest cloud computing technology, Merlin is the complete software package for today's timeshare resort including modules for sales, marketing, property management and front and back office. Its inherent flexibility means it can operate all types of sales activity and holiday product.
As Merlin is served over the Internet there is no requirement for any expensive communication links, on-site servers or IT personnel and it can be accessed via a web browser from anywhere with an Internet connection.
Merlin operates in real time and can be integrated with a resort's website to provide services such as member reservations, exchange banking, rental deposits, management fee payments and concierge services.
Merlin Software for HOA Resorts is an out-of-the-box solution for mature resorts that are now under the control and management of the owners. It includes all the software required to run a single site development including:
Member/owner management
Annual maintenance fee collections
Member/owner reservations
Exchange inventory and inbound reservation management
RCI Connect (available soon)
Owner rental pool management and distribution
Full property management and front desk functionality
Merlin Software for HOA Resorts is license-fee free* for qualifying resorts saving up to $20,000 per year and giving them access to Merlin's cutting-edge technology with no upgrade fees, costly servers or IT department.
Required: All resorts need to access Merlin Software for HOA Resorts are workstations with an internet connection.
Not Required: LAN servers, IT department or contractors to manage local servers. Resorts will utilise Merlin's high-speed cloud servers free of charge.
Optional extras: Member website integration, floating member booking engine and credit card API for online payments (an operational resort website is required to access these services).
What's not included: Merlin Software for HOA Resorts is license-fee free for qualifying resorts and includes all future upgrades so you will always be running the very latest version. Please note that the following items are not included: Software set up, data migration from your current programme, on-site training and monthly support.
Qualifying resorts are typically:
Run by the Home Owners Association (resort committee/council/board of owners) with no third party management team involvement
Single property with fixed unit, fixed week deeded timeshare
Up to 100 units
Require up to five users
No longer in active sales and marketing (apart from small scale owner/member re-sales)
To find out if you qualify, complete the form above and a member of the team will be in touch within 48 hours.