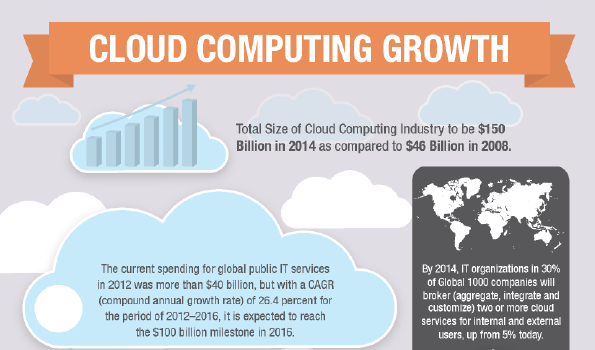 Cloud computing growth: infographic
Cloud computing growth has been amazing and cloud services are now becoming the norm in business. The total size of the industry has more than tripled in the last five years. In 2008, it was estimated at a value of about $46 billion, and in 2014 it is estimated to be worth more than $150 billion. The following Cloud Computing Infographic illustrates the growth of cloud services – and why many resorts are choosing this form of technology.
Key points:
By 2014, IT organisations in 30 per cent of Global 1000 companies will broker two or more cloud services – up from 5 per cent today
By 2014, 60 per cent of server workload will be virtualised
As of 2013, nearly 40 per cent of the CRM systems sold globally are cloud based
The overall cloud computing growth rate is five times more than the overall IT growth rate globally
Take a look at the infographic for more information.

Cloud Computing Infographic | by Awesome Cloud Services