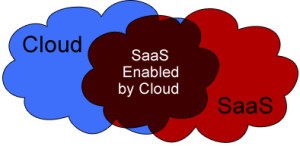 The Merlin team is often asked what the difference is between SaaS and cloud computing. We came across this blog post today which helps answer this question.
When businesses are looking to purchase a web-based software, they are often faced with two terms that marketers use interchangeably: Software as a Service (SaaS) and cloud computing.
Both terms essentially describe software applications that are delivered and accessible over the internet. However, there are some fundamental differences in these two terminologies. This blog entry will briefly define and compare these two terms so you can better understand their differences and similarities.